COMPANY
 - MESSAGE FROM THE MANAGEMENT –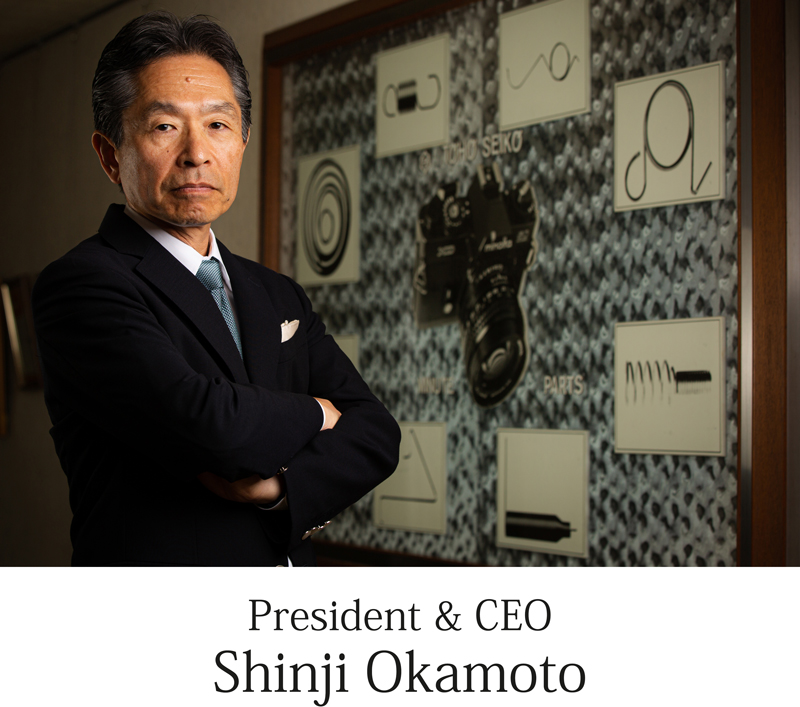 Reliable Technology Is Our Concept !
Toho Seiko Co., Ltd. was established in 1957 in Toyooka City, the central city of Tajima, Hyogo, where Japanese white storks are flying around in the rich and plentiful nature. As an expert on precision springs, we continuously receive good reviews for our technology and its quality from customers in various industries including optical equipment, information communication equipment, industrial equipment, automobiles, home appliances, and electronic parts.
Today, we have entered a new business field: the medical equipment industry. By utilizing the production equipment and rationalization equipment developed within our own company, we are able to expand into newer and more complex fields within multiple industries. We will continue to challenge new fields to meet your needs.
We established the factories in Shenzhen, China (1991) as well as Shanghai (2003). Starting from China and South-East Asia, we have developed the "TOHO SEIKO" network to provide precision springs to customers all over the world.
Our original company's motto was "Integrity, Creativity, Action before words." Our current motto, "Contribute to The World with Reliable Technology," possesses the same spirit has the original. It inspires all operations within our company with the belief that through manufacturing, we will contribute to the development of local industry, the nation, and the world.
Company Profile (February 2019 Today)
We handle springs every day and we are flexible and resilient like "springs".
Ask us anything about springs
■Name
TOHO SEIKO CO., LTD.
■Location
Main Factory: 404-1 Shimokage, Toyooka City, Hyogo
Phone. +81-796-22-0782 FAX. +81-796-24-0070
■Founding
December 1957
■Establishment
July 1965
■Capital
JPY 48 million
■The Management:

Shinji Okamoto President and CEO

Tadayoshi Oka Director  Takashi Matsui Director  Yuta Okamoto Director
Satomi Okamoto Auditor

■Bank
Sumitomo Mitsui Banking Corporation, Toyooka Branch / Hyogo Shinkumi Bank, Toyooka Branch / San-in Godo Bank, Toyooka Branch / Bank of Kyoto, Kumihama Branch
■Membership of Professional Institutions
Japan Spring Manufacturers Association / Toyooka Chamber of Commerce & Industry / Toyooka Industries Association
■Business Description
Production and marketing of the precision springs (wire springs, flat springs) / Design, production and marketing of the press tooling molds, precision tools & jigs and rationalization machines
■Manufacturing Capacity
Wire Diameter: φ0.02―φ10.0mm / Thickness: t 0.05 ― t 2.0mm
■Number of Employees
104 people (Male: 72, Female: 32)
■Site Area
Site: 4,669㎡ / Building: 3,693㎡
■Group Company
・Shenzhen Factory: TOHOSEIKO ENGINEERING (SHENZHEN) INC. LTD. (Established in 1991)
WenguangXiang Ind. Park, XiliZhen Nanshan-Qu, Shenzhen-City, GuangdongProvince China
Phone. +86-755-2662-1171 FAX. +86-755-2662-2426
・Shanghai Factory: TOHOSEIKO PRECISION SPRINGS (SHANGHAI) CO., LTD.
(Established in 2003)
No.47 building,No.11 Debao Road Shanghai Pilot Free Trade Zone, China
Phone. +86-21-5048-3966 FAX. +86-21-5048-3020
・Hong Kong Office & Warehouse: TOHOSEIKO ENGINEERING INC. LTD.
・SMI CA, Inc.(America/Los Angeles)
14340 Iseli Road, Santa Fe Springs, CA, 90670
TEL +1 (562) 926-9407
Company History
| | |
| --- | --- |
| Dec. 1957 | Founded by Toshio Okamoto for manufacturing mainsprings and springs for precision equipment. |
| Jul. 1965 | Established Toho Seiko Co., Ltd. with a capital of JPY 3 million. Toshio Okamoto was appointed representative director. |
| Sep. 1970 | Capital increased to JPY 6 million. |
| Aug. 1974 | Developed the torsion spring machine. |
| Feb. 1979 | Capital increased to JPY 12 million. |
| Nov. 1980 | Main office & new factory (3-story, steel frame) was built, moved to the current location. |
| Oct. 1982 | Main factory extended with a 2-story building. |
| Dec. 1982 | Capital increased 24 million. |
| Mar. 1985 | Developed NC torsion spring machine. |
| May 1987 | Brought in CAD・CAM for design and manufacturing of molds. |
| Feb. 1990 | Main factory extended with a 3-story building. |
| Mar. 1990 | Capital increased by 48 million. |
| Apr. 1991 | Established TOHOSEIKO ENGINEERING INC. LTD. in Hong Kong |
| Sep. 1991 | Established TOHOSEIKO ENGINEERING (SHENZHEN) INC. LTD. |
| Jul. 2000 | Moved TOHOSEIKO ENGINEERING (SHENZHEN) INC. LTD. to a new factory. |
| Sep. 2000 | Certified ISO9001 |
| Apr. 2003 | Established TOHOSEIKO PRECISION SPRINGS (SHANGHAI) CO., LTD. in Shanghai, China. |
| Oct. 2003 | Certified ISO4001. |
| Dec. 2005 | Acquired ownership of an industrial site at Toyooka Industrial Park |
| Feb. 2010 | Received Tajima Industry Grand Prize. |
| Nov. 2012 | Temperboy Clean accredited as Toyooka City Environmental Economy Project. |
| Jan. 2015 | Selected at Kansai Manufacturing New Selection 2015 by Kansai Bureau of Economy, Trade and Industry. |
| Jan. 2018 | Invested in SMI CA Inc. (USA) |
| Dec. 2018 | Selected as a Regional Future Leading Company by Ministry of Economy, Trade and Industry. |